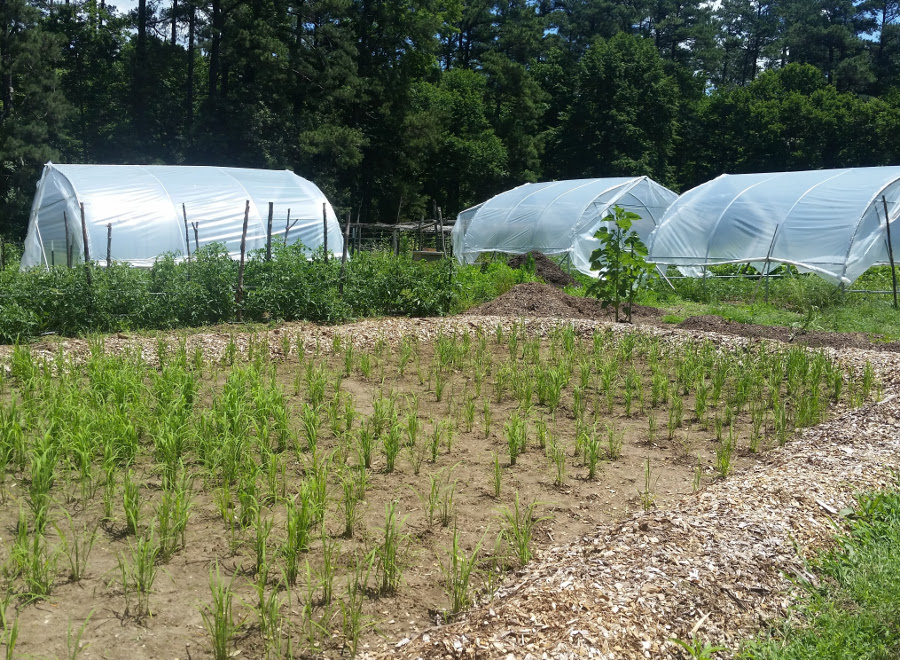 Transplanting Traditions Community Farm (TTCF) is a non-profit project of the Orange County Partnership for Young Children. The TTCF provides refugee adults and youth access to land, healthy food, and agricultural business education opportunities. Currently, there are 28 families farming at TTCF, and they are all originally from Burma. Transplanting Traditions helps the refugees become familiar with growing conditions and the business of agriculture in the U.S.
This year, project coordinator Kelly Owensby and others who operate the TTCF will install a movable high tunnel system on the farm in order to extend the season for producing several varieties of Southeast Asian crops, including several Burmese varieties of eggplants and peppers.
Kelly and the farmers at Transplanting Traditions Community Farm have completed the construction of six mobile high tunnels. Many of the high tunnels have already been put to use for tomatoes and several traditional Southeast Asian crops.
The mobile tunnels will be moved onto tropical crops like turmeric, ginger, taro, and rose hibiscus to help extend their season and provide them with an environment more like that of Southeast Asia. These specialty crops can be sold at a premium price at local farmers' markets, as well as sold or shared in the farmers' own communities.
This niche market of Asian crops is also important to Transplanting Traditions farmers CSA and allows a marketing point for attracting customers at a time when CSA's face competitive pressure from CSA's which aggregate across the south-east U.S. In the fall, the cathedral tunnels are being used to protect south-east Asian tropical crops and will then be used for winter production starting in mid November. Typical use of cathedral tunnels will be to get an early start on south-east Asian tropical crops in the Spring and Fall and to protect tomatoes during the summer. Tunnels will also allow winter production especially as they withstand snow loads, which has been the limiting factor in winter production because farmers do not reside at Transplanting Traditions. During the year, the tunnels are moved 4 times.