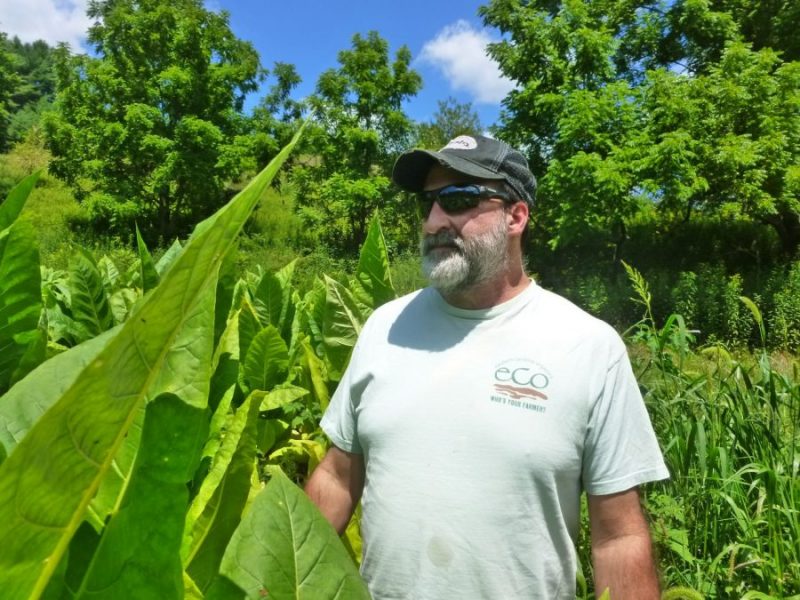 Farm: Rocking S Farm
Operator: Alan Souther
Acreage in Production: 73 acres of owned land in hay, pasture, and crops; 300 acres of rented land (15 acres in crops, remainder in hay or pasture)
Production: Tobacco, hay, corn, pumpkins, vegetables, tobacco, vegetable starts, strawberries, beef, beef cattle
Markets: Santa Fe Tobacco, Eastern Carolina Organics, New River Organic Growers
Certifications: Organic
Location: Piney Creek, Alleghany County, NC
When Alan Souther's farm reached a turning point in the early 2000s, he had three main goals: diversify the farm to reduce its reliance on tobacco, transition to organic production, and increase farm income. Using organic methods was important to him; not only did he think it offered a specialized market niche, but he especially didn't want his three children, who all helped on the farm, exposed to lots of farm chemicals. Grant support for his projects from the Rural Advancement Foundation International helped Alan give his dreams and plans for his farm a solid footing on which the farm has continued to develop and evolve.
Alan has farmed all his life. His family raised tobacco and beef cattle, common crops for northwestern North Carolina, and when he began to farm on his own, he worked with the same crops. His first grant in 2003 helped him develop a sheep operation as an alternative to beef cattle. Alleghany County had once been a sheep producing area, though the industry had all but vanished, and he felt it still offered good possibilities. The grant helped him fence pastures, put in watering systems, and establish alfalfa fields so that he could sell organic alfalfa hay.
"These grants made it possible for us to become certified organic and kept us on the farm."
A second grant in 2005 provided funds for site preparation and construction materials to build a 24 x 48 greenhouse, in which he planned to raise vegetables and organic transplants, using a float system in which Styrofoam flats rest in shallow pools of fertilized water. Getting it erected was relatively easy, as he and his helpers all had experience putting up greenhouses. One challenge was finding a good organic fertilizer for float system production. "Fish emulsion just didn't cut it," recalls Alan. He eventually settled on using bat guano, which they mixed with water to make a manure tea before adding it to the float beds. Another challenge was the rising cost of gas to heat the greenhouse. "I had chosen gas because it was a less expensive system and quick and easy to install," recalls Alan. "I looked at converting over to wood or a corn burning furnace, but it just wasn't feasible." It quickly became clear that winter production of produce would be uneconomical, and he focused instead on raising vegetable starts, mostly tomatoes, peppers, and brassicas. These are seeded in March and early April and are ready by mid-May. By and large, the organic plants required little special care or pest control.
Marketing the plants was not a problem. He had already joined the New River Organic Growers (NROG), a marketing group of growers in the region, before starting the project. "I already knew from my connection with them that there was a big demand for organic transplants," says Alan. He developed several reliable buyers who each wanted thousands of plants, and did most of his production to order. The greenhouse was so successful that the following year he built a second 30 x 48 ft greenhouse with his own funds.
The farm has been constantly evolving. Six years after his sheep project, drought forced Alan to choose between keeping his sheep and his brood cows, and he sold off his sheep. By then the alfalfa fields were mostly played out, but he'd also discovered that there was no real premium to be gained for organic alfalfa. He now has about 25 Black Angus brood cows and slaughters and processes two meat animals every other week, selling the frozen beef at the Boone farmers market and through NROG to restaurants. In the fall of 2014, his beef operation moved beyond "grassfed, hormone and antibiotic free" to become certified organic, offering a greater premium.
The farm's location in North Carolina's northwest highlands is far from a major population center, so local direct marketing offers limited possibilities. He's tried growing all kinds of crops, including dandelions for their medicinal roots, which he dropped as unprofitable. Now, he is focused on crops that are not highly perishable and can be transported a good distance, like pumpkins, winter squash, and turnips, and on selling wholesale through New River Organic Growers and Eastern North Carolina Organics (for whom he delivers trailer-loads of squash and pumpkins). In 2012, he also built a high-tunnel greenhouse and is raising strawberries in it. He sells vegetables, frozen meats, and strawberries at a Saturday farmers' market about 40 miles away from the farm.
Alleghany County once produced hundreds of acres of tobacco. "Tobacco paid for a lot of college, a lot of Christmas, a lot of taxes around here," says Alan. Now, he is one of only a few growers remaining, and instead of conventional tobacco, he raises 4.5 acres of high-value organic burley for the American Spirit Tobacco Company. It is a contract he had to work hard to get, as the company had mostly bright leaf growers in Piedmont North Carolina and doesn't use a lot of burley.
"I grow my plants with zero chemicals and they look as good as those of my neighbors. Conventional tobacco probably has several different chemicals on it before the plants even leave the greenhouse, and I didn't want my kids handling it."
Tobacco still makes up about one-third of Alan's income and he's committed to supplying an organic product. The organic contract with Santa Fe gives him a reliable market, a higher price, and good technical support. He rotates the tobacco in a three-year rotation of tobacco/pumpkins/sweet corn, with a rye or wheat cover crop in between. When he landed the contract with Santa Fe five years ago, he also transitioned to raising organic tobacco plants in the greenhouses for himself and another farmer, (along with pumpkin plants for himself), and is now growing fewer vegetable starts for others.
Despite the high value of a tobacco crop, there are good reasons why Alan has worked hard to diversify. "This year [2014] is the best tobacco year in a long time," says Alan. "Last year it only got about knee high because of excess rain." Alan bush-hogged it all, rather than wasting labor trying to nurse it through harvest. "You need to know when to cut your losses," he says quite literally. Cattle have been a strong market in recent years and currently bring in about 40% of the farm's income, with vegetable production bringing in another 20-30%.
While farming is a major source of family income, the Southers also rely on off-farm work for both health insurance and additional income. Alan's wife, Pam, works full-time as a social worker, and he holds a part-time job with Rural Community Insurance Services (RCIS) working with crop insurance claimants. He also has a side business conducting GPS grid-based soil sampling for other farmers. Alan and Pam's two daughters Lacey Jaye and Karly, both in their twenties, worked on the farm growing up—Karly still helps with transplanting—but are out on their own now. Their son Luke, now 19, works on the farm and would like to make farming his career, along with the soil sampling business.
Right now, says Alan, labor is the farm's biggest problem. He is able to employ workers from another farmer a few times a year, but it's almost impossible to get enough help when he needs it most at tobacco topping and harvest time. He doesn't have enough steady work to engage H2A workers like the bigger farmers or to keep someone on full-time. The challenge has become intensified as he works to build up the farm to the point where his son Luke can work with him full-time, which would in turn allow the farm to support two households.
To do this, he plans to increase the farm's pumpkin and squash production and the beef cattle operation, and may expand his strawberry production. He is also researching the possibility of raising organic strawberry plants, another area where there seems to be a market niche that fits well with his location, his facilities, and his experience.
Video profile on Rocking S Farm by Eastern North Carolina Organics (ECO)