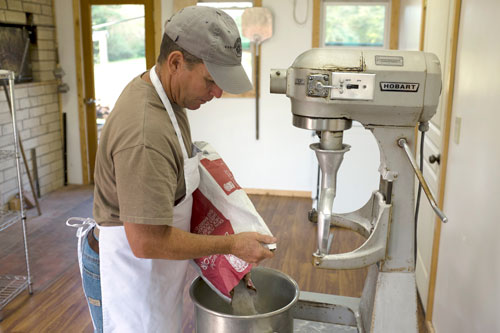 Farm: Riverbend Nursery
Operator: Brian Rollins
Acreage in Production: 10 and growing
Production: Grains, Artisan Bread, Vegetables
Markets: Farmer's Markets, Grocery
"The vision for the farm and business is to combine our current farm and the food business by planting 7 acres in winter wheat to be harvested, milled, and used to make artisan, rustic bread baked in a Brian-built wood-fired oven."
Riverbend Nursery was a thriving B&B and nursery business for almost 25 years until its success was undermined by a combination of the economic recession of the late 2000s and drought. The owner, Brian Rollins, had made a career as nurseryman in landscaping, being self-employed and making a living from growing plants for the bustling housing industry. With the housing industry collapse, Brian's business declined rapidly. Having been successfully self-employed for so long, he did not want to give up his land and be forced to find another job.
Brian started a side business catering events using his wood-fired brick oven. Customers and their guests raved about his delicious pizzas and the effort showed signs of success. He also began constructing and selling brick ovens for individuals and other small food businesses.
When the nursery went bust, Brian transitioned the land from growing young trees to a diverse selection of vegetable and other specialty crops, including shiitake mushrooms. He planned to grow 7 acres of wheat to be harvested and milled for making the pizza dough for his now-famous wood-fired brick oven pizzas. He hoped that the project would integrate his pizza catering business entirely into the farm. Growing the wheat, processing it into flour on site, and growing the vegetables for pizza toppings would make the farm-to-fork pizza catering service a reality.
By sourcing his own grain, Brian found that he could experiment with different varieties, adjust harvest and planting times, and ensure the quality of his own raw ingredients for baking. He could also produce a variety of artisan breads from the grains grown on his own soil.
In late 2012, Brian applied for a grant to gain further investment for building his bakery operation. He used the funds he was awarded to buy a small-scale Austrian-style mill that would be perfect for turning his wheat into a value-added product.
He soon built his bakery, with the mill as the centerpiece, and now produces a multitude of loaves that he direct markets to consumers.
Brian's original goal was to harvest 350 bushels of wheat from the seven acres of land that he planned to cultivate. He has since managed to harvest 400 bushels of wheat in a year and has expanded his acreage to ten, with plans to continue expanding. Brian has not had any major complications with growing wheat and has been able to steadily increase his yield since being awarded the grant in early 2013.
The Rollin's family's goal is to make their farm more sustainable by integrating production, processing, and sales into their business model. Brian says that the family is also working towards sustainability through their stewardship of the land; they hope to place 35 acres of the farm into a conservation easement to "preserve the open farm land for future generations."
Brian believes that their project could be duplicated by other farmers who want to produce their own unique baked goods and breads. He cites one of his only major challenges as finding a reliable source for organic fertilizer, one that would be able to adequately fertilize several acres of grain. He also has limited machinery for harvesting and processing grain. For his business to continue to grow, a seed cleaner is the next piece of equipment that will be essential for expanding and ensuring a high-quality product.