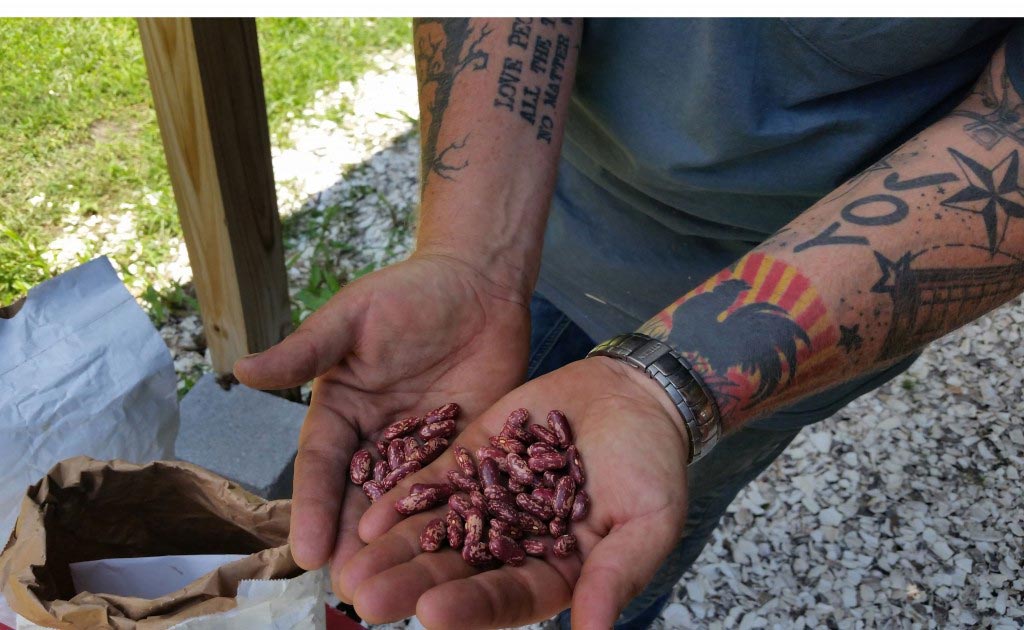 Farm: Olan Path Farm
Operator: Calyb Hare
Acreage in Production: 2.5
Production: Vegetables, heirloom beans
Markets: CSA, Edenton Farmers Market
Location: Edenton, Chowan County, NC
Calyb Hare is a young farmer with deep roots in coastal North Carolina and long-standing family ties to the land. He grows a variety of vegetables for his CSA on a small, diversified farm near the town of Edenton. We visited Calyb at the farm in June of 2015 to learn more about his approach to farming and check in on the progress of his grant project funded by the Agricultural Reinvestment Fund. We toured the multigenerational farm where members of his family and others have traditionally raised commodity crops including tobacco, corn, wheat, and soy. Calyb took us out to see his bean plots and, in time-honored fashion, shared some of his 'hareloom' seed with us to take home and plant in our own gardens.
Calyb spent many years in the Northeast after leaving the family farm when he turned 18. He learned about small-scale, diversified farming and local food production models while serving as a farm manager and educator in the Boston area. After the death of his grandfather, he decided to return home to rethink the family's farm. He brought along some new ideas; he would be the first farmer in the county to offer a CSA for locals. Last year, he was able to successfully introduce two new varieties of beans to his CSA members and farmers' market customers. Soon, his farm will be the first on the coast to grow beans for producing a dried and packaged, shelf-stable product, giving him the ability to access new markets both locally and regionally.
While his current plots amount to about two and a half acres, Calyb has plans to grow the farm and potentially gain access to more of the forty acres that his family currently leases out. Having returned to farm his family's land relatively recently, he started small in the 2014 season with fifteen CSA members. As the season went on, he was able to provide shares to ten more households and the demand continues to grow.
"I am hoping that this helps area farmers see that there are other crops outside of what we might consider 'traditional' to this area that could be raised for profit here. When I think of commodity crops in Chowan County, I am reminded that majority of what is raised here is not eaten here or even edible. Much of what we do eat is raised or produced elsewhere. If we can consume what is grown here it will help stimulate the economy of the area."
Over the past couple years, he has also become active in local and regional initiatives to promote small-scale agriculture. "In the future, I would love to use some of my physical resources and knowledge to help incubate small farm operations in this county that address the local economic conditions. This will help stimulate job growth and provide healthy foods for our residents," he says.
For now, Calyb is primarily focused on the success of his CSA and direct market sales. He sees producing heirloom beans as a way to serve both local customers with an appreciation for the past and a new wave of foodies eager to try their hand at new dishes, perhaps a flavorful speckled bean chili or hearty Calypso bean stew. Roll that beautiful, local bean footage.